Luz Molina Receives Inclusive Excellence Award
March 25, 2021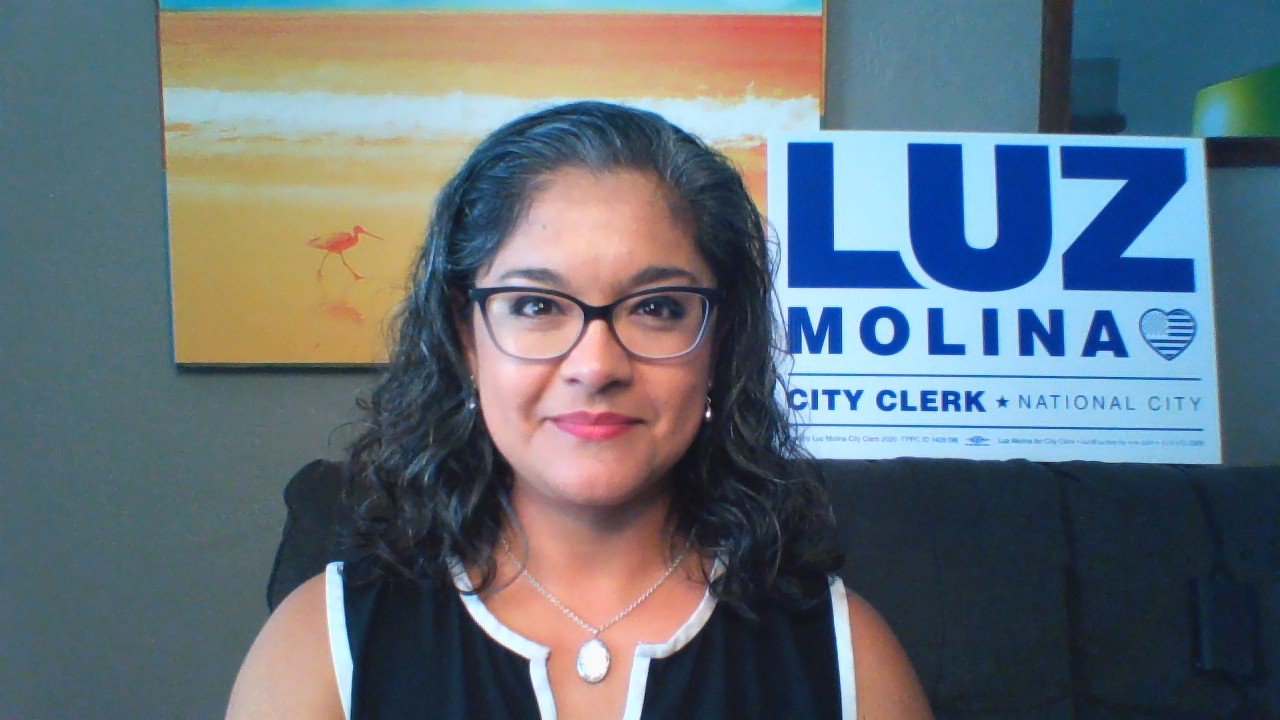 Contract and Grant Officer Luz Molina has worked in the Office of Contract and Grant Administration (OCGA) for the last two years, where she works with fund managers and principal investigators on the many stages of securing research funding. She recently received
UC San Diego's Award for Inclusive Excellence
for her work in upholding the values of diversity and inclusion. She was also elected City Clerk of National City. Read more about her work at UC San Diego and why she was interested in public service below. 
Q: Tell us about your job as a contract and grant officer.
Luz Molina: I support fund managers and principal investigators (researchers) with the proposal and award process. I review and submit proposals and perform compliance checks. After the award is received, I also help ensure everything is in order so the investigators can access funds to complete their research projects.
Q: How did you feel when you heard you were receiving the Inclusive Excellence Award?
LM: I didn't believe it at first! Listening to Vice Chancellor Brown talk about my nomination during the awards presentation—it was very special. Very unexpected.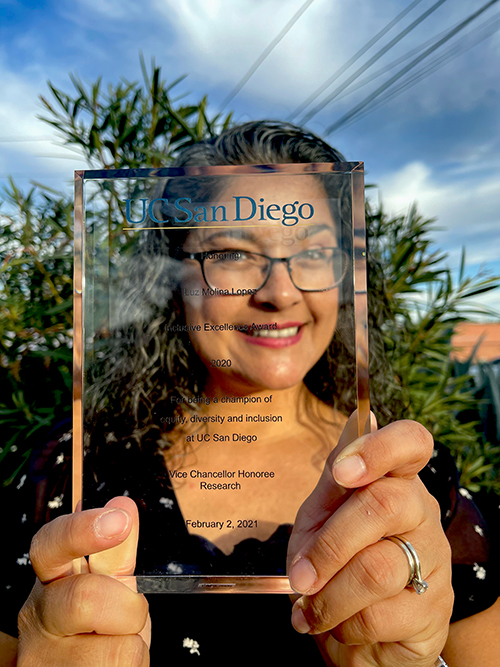 Q: Why do EDI (equity, diversity and inclusion) initiatives matter?
LM: In my previous job I was overlooked for promotions or leadership positions. When I came to UC San Diego, I wanted a fresh start. I thought "As a Latina, I'm going to advocate for myself and others. I'm no longer going to stay in the background." There's no reason not to step up or voice my opinion. I decided to leave that fear behind. It would be wonderful if we lived in a completely inclusive world but there is still a lot of work that needs to be done to achieve inclusion goals.
Q: What's your favorite spot on campus:
LM: I love walking from the OCGA office at Torrey Pines North down to the library. Before the pandemic, I'd often do that walk for exercise.
Q: You were recently elected city clerk of National City. Why did you decide to run?
LM: I volunteered to work at a polling site during the 2016 election and was proud to think we were on the verge of electing our first female president. After that loss, I thought, "Maybe the country isn't at the point of electing a female president, but that doesn't mean we can't simply have more female elected officials in office."
National City is one of the few cities in the county that actually elects (rather than appoints) its city clerk. When I learned the position was opening up because the incumbent was retiring, I thought why not me?
Q: Can you tell us more about what your responsibilities are as city clerk?
LM: It's a four-year, part-time position where I support the city council. I attend the public meetings, facilitate the public's involvement, record votes—things like that. I also advocate to our residents for their participation in the city's  boards and commissions. As city clerk, I get to administer the Oath of Office to new commissioners and that is always a special moment. It's sort of ceremonial, and serves an important function in allowing residents to see how the business of the city gets done.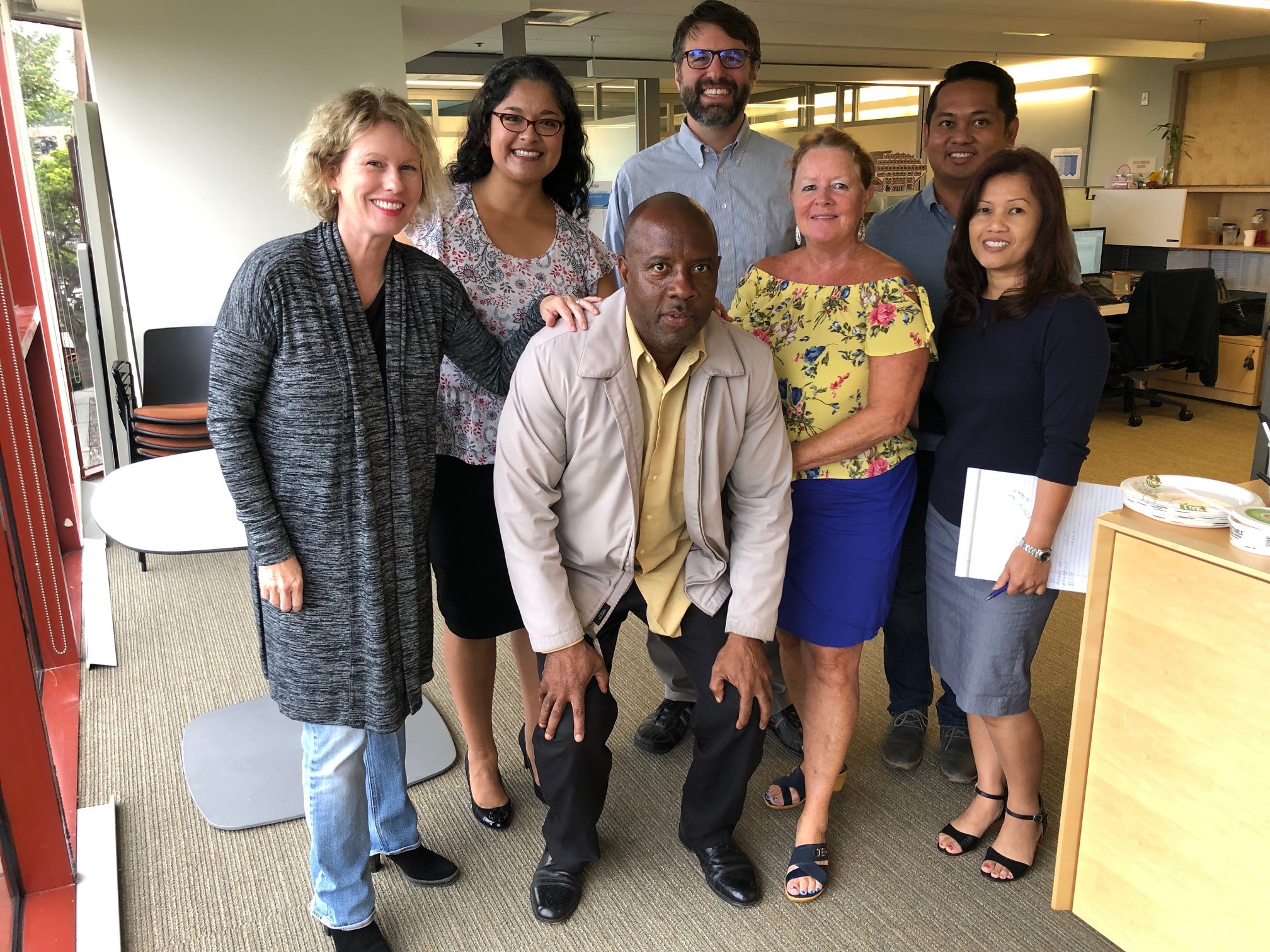 Q: What do you like most about working at UC San Diego?
LM: I enjoy all the celebrations our teams hold at OCGA. We love celebrating all kinds of milestones—a birthday or work achievement or holiday. That's something I really miss now that we've been working remotely.
Q: What are you reading right now?
LM: I'm reading lots of things for work…and trying to stay away from the news! I'm also reading up on how to best perform my job as city clerk.
Q: What was your first job?
LM: In high school I worked as a receptionist in my optometrist's office. Actually, he's still my optometrist!
Q: Do you have a favorite pandemic activity:
LM: I've been listening to a lot of K-Pop (Korean pop music).