Angela Phillips Diaz Named 2020 AAAS Fellow
January 15, 2021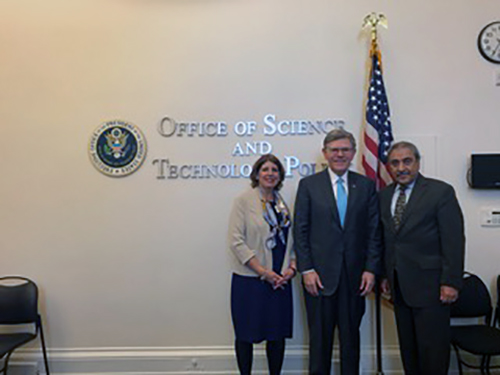 Executive Director of Federal Government Research Relations Angela Phillips Diaz was named a 2020 Fellow of the American Association for the Advancement of Science (AAAS) — the largest general science organization in the world and publisher of the journal
Science
. Diaz,
along with four other UC San Diego faculty and staff members
, will join 484 scientists and physicians across the country recognized this year for work deemed scientifically or socially distinguished, advancing science or its applications.
Diaz has been a part of UC San Diego's Research Affairs team for five years. Learn more about her career highlights, her time in Washington D.C. and how she came to UC San Diego below. 
Q: What first led you to a career in science and technology?
Angela Phillips Diaz: It was serendipitous for me. A friend of mine mentioned that NASA was hiring, so I sent in my application. During my interview in the Planetary Sciences Division, I was told by a planetary scientist that I would have a job but not a career at NASA since I wasn't a scientist or engineer. I thanked him and accepted the secretarial job, saying to myself that no one was going to tell me what I could or couldn't do.
My first experience with a mission was the Voyager encounter with Jupiter — after seeing those images and experiencing the work surrounding such a mission, I was hooked. I was fortunate to have supervisors at NASA who had the courage to select me for positions when I often wasn't the traditional candidate. As it turns out, NASA needed my skills to complement those of the scientists and engineers. I had a long, successful career, working my way up to become a senior executive leading high-profile programs at NASA and the White House Office of Science and Technology Policy. Despite those initial discouraging words, I had an extraordinary career with NASA.
Q: How did your time at NASA help prepare you for future work?
APD: I was able to learn science and tech from the best and the brightest from NASA, academia, industry and international partners. I also experienced stunning successes like the launch and assembly of the International Space Station and the Hubble Space Telescope repair mission to crushing failures like the Challenger and Columbia space shuttle accidents. I always felt that for each job I had at NASA, it was training for something — I just didn't always know at the time what it was training for. I'm reminded of a Dr. Wayne Dyer quote: "Each experience in your life was absolutely necessary in order to have gotten you to the next place, and the next step up until this very moment."
As time progressed, it was clear that these experiences working in science and technology provided me with the technical grounding and understanding combined with the network and long-standing relationships that allowed me to contribute in many different fields. Being selected as a 2020 AAAS Fellow in engineering is recognition of this and is one of the highlights of my career.
Q: What led you to UC San Diego?
APD: Once again my path to UC San Diego was serendipitous.  A long-time friend and UC San Diego emeritus, Bob Kaplan, called and asked if I would consider speaking with Sandy Brown (Vice Chancellor for Research) regarding the position. I was flattered to be asked and thought that even if it wasn't a good fit for me, I might know of a good candidate. As it turns out, the fit was great for both the university and myself, and I became the Executive Director of Government Research Relations.  I started in September 2015.
Q: What do you like most about your job?
APD: First, it's the people both on campus and off.  Whether researchers or students, government officials or staff, or peer government relations officials — they are smart, passionate and committed to the work. Working with them is a privilege and inspirational to me.  Second, it's the federal relations mission.  Every day is different — from the planned to the unexpected. It requires flexibility, innovation, and agility. Third, I have the best of all worlds working in two extraordinary places — D.C. and San Diego. I also appreciate receiving encouragement, resources and trust from Chancellor Khosla and Sandy to have the independence to do the job, and a support network of talented friends and colleagues in UC Federal Government Relations, professional organizations, federal agencies and Congress.
Q: What was your first job?
APD: My first job was babysitting for our neighbor who was a Pennsylvania State Trooper. My first "official" job was as a lifeguard at the VA hospital employee pool.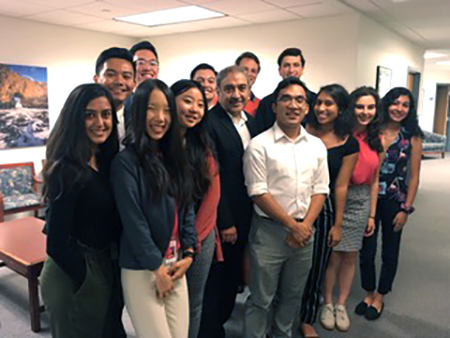 Q: Any interesting anecdotes or stories from your time in D.C.?
APD: Every day in D.C. is an adventure. Before the pandemic, it was common to arrange meetings for faculty or students to meet with congressional staff. if they knew we were in the office, our California members of Congress, would make a point to say hello and even take pictures. It was humbling to see that starstruck look on student and faculty faces to have this time with our elected representatives.
The other memory I have is from July 2019 when the Chancellor met with our students who were spending their summer quarter in D.C. We scheduled a breakfast where they could have an informal "get to know you" gathering with the Chancellor. There were about 15 students and one student meekly asked if the Chancellor would take a selfie. He enthusiastically said yes and every student stayed to have a selfie with the Chancellor.
Q: What are you most proud of from your time here?
APD: I am most proud of three things: 1) raising the profile of UC San Diego with decisionmakers and thought-leaders in D.C. circles which resulted in bringing D.C. leaders — including DARPA Director Steve Walker and NSF Director France Cordova — to campus to meet with faculty, students and leaders; 2) raising the profile of Government Research Relations on campus as a trusted, useful resource in addressing issues involving federal organizations; and 3) building and sustaining relationships with leaders and staff in the San Diego region, including elected officials, regional commerce organizations and economic development groups that will last into retirement.
Q: What are your retirement plans?
APD: I retired on January 5th.  My husband, Al and I bought a 1925 home in Florida and we are working on renovation plans to make it even better than it already is. We also plan to take golf lessons and once we've had our COVID-19 vaccinations, plan some travel. However, I was asked to help UC San Diego with the transition of my successor and also provide strategic advice and support for federal relations with the incoming Administration and Congress, so I will rejoin the team on February 8 on a part-time basis.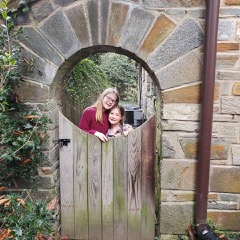 Q: What are you reading right now?
APD: I've been researching articles and books to get ideas for our home renovation.
Q: What's your favorite spot on campus and/or in D.C.?
APD: My favorite spot on campus is of the Bear sculpture by Tim Hawkinson. It is so overwhelming in presence yet whimsical and welcoming. My favorite spot in D.C. was at home with my granddaughters, Cora and Willow Diaz (pictured here).