EVT Offers New Virtual Classrooms for Distance Learning
EVT Offers New Virtual Classrooms for Distance Learning
October 14, 2020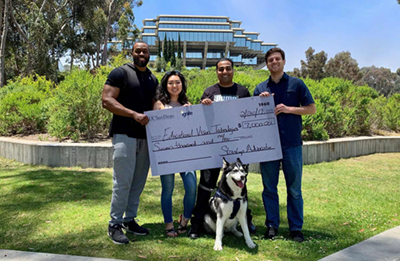 While colleges across the U.S. scramble to respond to COVID-19, one UC San Diego alumni is helping his alma mater provide fellow Tritons a robust, engaging remote experience through his Edtech company, Educational Visions Technologies (EVT). Founded by Milpitas, California native Monal Parmar (BA '16, MEng '20) while he was a student at UC San Diego, EVT uses artificial intelligence to transform lectures or presentations into online classes that are more dynamic and engaging than simply watching a professor talk on a screen. The university piloted EVT in 2019 and since the pandemic started, the school has relied both on past EVT-digitized courses and on the startup's support transitioning over 50 courses online. The startup has also helped the school's extracurricular activities adapt to the pandemic, enabling programs like UC San Diego's Blackstone LaunchPad & Techstars network to move its entrepreneurial activities online. The university plans to use EVT for at least 100 courses in the fall.
Back when in-classroom learning was still the norm, EVT installed cameras that could capture entire auditoriums, including all whiteboard, chalkboard and projections up to 70 feet away. Using artificial intelligence, EVT enhances, organizes and transforms the recorded lecture into a dynamic online class, complete with video, interactive notes and searchable transcripts.
EVT also adheres to strict regulations to ensure student privacy: the device automatically trims the video to avoid filming students coming in and out of the classroom. Until the company releases a feature that blurs student faces, the device also scrubs out any student who does not wish to be recorded. When classes went remote last spring, EVT was able to quickly adapt its offering to accommodate classes delivered over Zoom.
"UC San Diego is committed to providing equitable and inclusive learning to foster the academic success of our diverse student population," stated Chancellor Pradeep K. Khosla. "EVT has supported us in this effort during our temporary transition to online instruction as a result of COVID-19. They have helped us not only improve accessibility, but also improve student satisfaction for distance learning."
To date, EVT has been used in over 50 courses, including mathematics, engineering and physics, as well as to support e-learning for the university's entrepreneurship programs offered  through The Basement. According to a survey conducted this past spring, Parmar stated, "Students prefer EVT to other e-learning platforms. Thirty percent of math students stated that EVT is better than in-person lectures when only 5% of students in general prefer online lectures to in-person lectures."
EVT has also gained recognition outside of UC San Diego: this summer, EVT was a finalist in the Rice Business Plan Competition, which has ~10% acceptance rate; and the Global Extreme Tech Challenge, which has ~2% acceptance rate.
The idea for EVT came to Parmar when he was a student himself. "Sitting in classes, I was having difficulty taking notes while also understanding all the ideation on the board. I wanted someone to take notes for me so I could focus on understanding. I talked to my friends, did interviews with professors and administrators, and looked at the literature that existed. That was surprising — I learned the vast majority of what is taught in lectures, students don't retain. So I realized that this personal issue I faced was not just me but was really widespread."
Parmar turned to UC San Diego's robust entrepreneurship programming for help building a solution. He found support from the Institute for the Global Entrepreneur (IGE) and The Basement, UC San Diego's accelerator and hub for entrepreneurial training. Parmar notes The Basement grew in his last year at the university through a new partnership with Blackstone LaunchPad & Techstars network.
Gloria Negrete, who with her team Jacques Chirazi and Christine Liou, runs UC San Diego's LaunchPad and other entrepreneurial programming, worked with Parmar at The Basement. She says, "Monal and his startup are extremely active supporters of our innovation ecosystem. He has helped seamlessly digitize content for several campus programs as well as faculty who have adopted the solution they developed. EVT also digitized The Basement's programming content, and helped us continue delivering educational workshops without interruption from the COVID-19 pandemic."
Leaning on lessons from IGE and LaunchPad, Parmar adapted EVT's model to respond to the specific needs of remote-education during a pandemic: "We adjusted for professors teaching from home by taking Zoom feeds or any other online lecture delivery systems, processing the class with AI, and providing a better online learning experience for students. We're using algorithms and infrastructure we already developed to accommodate what instructors and students need now."
Whatever the new year holds, one thing remains clear: Parmar and EVT will be there to help Tritons receive the best learning experience possible, no matter the circumstances.