The Basement Receives Inclusive Excellence Award
The Basement Receives Inclusive Excellence Award
February 6, 2020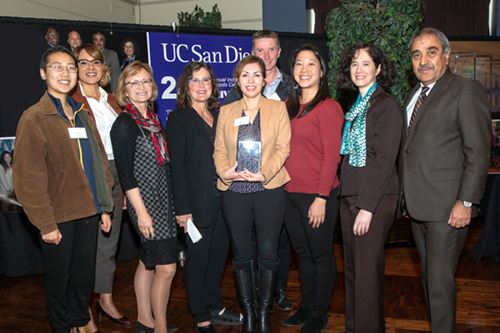 The annual Inclusive Excellence Awards honor staff, faculty, students, departments and organizational units or groups that make outstanding contributions in the areas of inclusion, equity, diversity and uphold our Principles of Community during the year. 
The Basement is a student startup incubator and is a part of the Office of Innovation and Commercialization. They were recently awarded a $20,000 grant from the Office of Equity, Diversity and Inclusion's Latinx/Chicanx Academic Excellence Initiative. Their project, "Latina Entrepreneurial Leadership," will help female students learn about entrepreneurship through training, workshops and internships. 
Read more about The Basement, what they do, and why they were chosen to receive the Inclusive Excellence Award below. 
Q: How would you describe The Basement in one sentence?
Christine Liou (program coordinator): We're an innovation space open to all students across all majors, both undergrad and graduate students.
Gloria Negrete (executive director): The Basement is a resource that offers innovation space, mentorship and funding to students looking to build entrepreneurial competency, new products and solutions to global challenges.
Q: How long have you worked at The Basement and how long have you been at UC San Diego, if you worked in a different department before?
GN: I've been here for about five years. I'm the founding director and spearheaded the effort made possible thanks to the generous support of our visionary donors, Jeff and Kim Belk '83, InterDigital, Inc., Aryeh Bourkoff '95, LionTree LLC, and Mark Suster '91 of Upfront Ventures. The chancellor, campus leadership, including many of our deans, and the Basement Advisory Board all contributed significantly.
CL: I started here September 2017, but I've worked at the university since July 2008. I graduated from UC San Diego in June 2008 with an Economics degree and found my first full-time job at Marshall College Residential Life. Then I worked at The Village at Torrey Pines transfer housing, then became an academic advisor in the Division of Biological Sciences and then I came here.
Q: Why do you think The Basement was chosen to receive the Inclusive Excellence Award?

GN: Since our inception, we set out to create an inclusive campus-wide entrepreneurial hub dedicated to supporting all students. Cross collaborations with campus partners have been instrumental. In that vein, we engage mentors who can serve as role models for students.
CL: I also think we create an open environment for like-minded folks, regardless of how they identify, so we really are a social space that brings together people who might not find a home elsewhere on campus.
Q: Can you talk about some of the specific programs that you have implemented to ensure that you are being inclusive and acting thoughtfully regarding diversity?
GN: We collaborated with Arts and Humanities, and Social Sciences on a program called "Be Your Own Boss: Turn Your Passion into a Career." It was developed in partnership with the Career Center and highlighted alumni in those divisions who had successful entrepreneurial careers. The idea was to give non-STEM majors space to explore how they might approach entrepreneurial career paths.
It's interesting because it's such a misconception that if you're an artist, you're not an entrepreneur. Artists have to build their own brand. They need to be business-minded in order to book gigs and everything else when you do freelance work. Actually you are running your own business, you just don't realize it!
We've done panels and programs that highlight women in business, women in venture capital, women in AI—different industry sectors where we can highlight diversity, hear their stories, and create role models for our students. 
Q: Where do you see room for improvement in terms of diversity or diversity efforts?
GN: One is having increased female participation in the program. We've seen relatively strong growth, but when you talk about team founders and co-founders that are female, that's where there's a big area of opportunity. We should be at 50 percent.
The Basement now has Blackstone LaunchPad powered by Techstars which will serve to create more opportunities for students and help increase the diversity of students reached. Diversity is a key priority for Blackstone LaunchPad, and as part of this effort, we've hired someone who will work with all areas of campus to help decrease barriers for students to participate in entrepreneurial activities, as well as grow student entrepreneurship across UC San Diego. 
Q: Can a student come in and say "I have this idea for an app, but I don't know how to actually build it. Can you help me find someone on campus who can do the app-building part?"
CL: If they're accepted into the program, they can be part of the recruitment fairs or a lot of students find other students through Facebook groups, student orgs or networking with the community here. There are a lot of really talented students at UC San Diego that want to be able to use the skills they're learning in the classroom for something tangible. It's a good kind of matchmaking here—students who have all the tech skills but don't have an idea or we've also had folks who have an idea but don't have the tech skills.
Q: What do you like most about your jobs?
CL: The students here are fantastic. It's remarkable what they can accomplish—they're full-time students with a full-fledged company and they are still personable, still in touch with what their passions are, still want to help each other. UC San Diego is a huge campus and I'm really proud of the fact that we have a community here where people really respect one another.
Q: Of all the startups you've seen come through The Basement, what is one that stands out as being particularly memorable?
CL: For me it would probably be a team from two years ago, Movement Exchange. They were one of our first social innovation teams here. Alice Lu and Xiangdi Zhang spearheaded the UC San Diego chapter and during her time on campus, Xiangdi helped introduce other students to the Basement. She was our ambassador for the program, always willing to speak on our behalf. We're really grateful to her for advocating for the Basement and brining other social innovation teams here.
Q: How did you feel when you learned you were receiving this award?
GN: We're committed to equity, diversity and inclusion; receiving this award is an honor. These students will graduate, launch companies, create jobs, or enter the job market as better problem solvers, collaborators, creative thinkers and communicators. Many of these students will lead, and make valuable contributions to existing and future industries.