Anticipating the Future of Science: A Look Back and a Look Ahead
Anticipating the Future of Science: A Look Back and a Look Ahead
March 6, 2020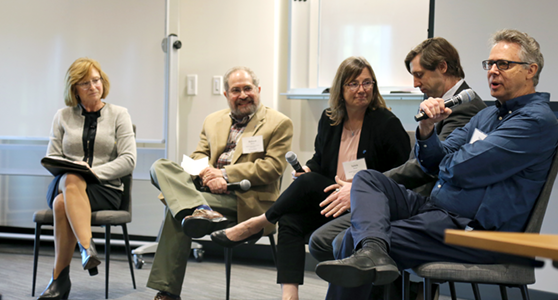 The University of California San Diego recently hosted a day-long symposium celebrating the philanthropic funding of early-career faculty in their research endeavors. Foundations from across the country attended the event, which was specifically created to acknowledge the special relationship the university has with the Research Corporation for Science Advancement (RCSA). Created in 1912, RCSA provides catalytic funding for innovative scientific research and the development of academic scientists.
The symposium featured a full day of presentations from UC San Diego and University of San Diego faculty who have benefited from RCSA's generosity, either through the Cottrell Scholar program or through Scialog, a sharply focused research conference that fosters the development of innovative, collaborative, interdisciplinary projects that fall into the category of "high risk/high reward."
A keynote speech was given by Maria Pellegrini, executive director of programs for the W.M. Keck Foundation. In addition to the faculty presentations and keynote, there was also an afternoon panel discussion and opportunities to network.
UC San Diego Vice Chancellor for Research Sandra Brown spoke about the impact of RCSA's continuing support; they have funded basic science research on campus since 1961—remarkable considering the university was founded in 1960.
"Together with federal funding, philanthropic support ensures basic science research can continue to push the frontiers of knowledge that will eventually translate to innovations that will shape the future of society and the planet," she stated.
RCSA President & CEO Daniel Linzer spoke about the importance of funding "curiosity-driven research" of early-career faculty with a passion for understanding how the world works: "Who knows where it's going to lead, but it's going to give us interesting and important insights that at some time in the future will reap new benefits. 
The afternoon panel talked about the relationship between federal funding and foundation philanthropy, discussed why foundations often focus on basic science research and shared best practices on how researchers can secure philanthropic funding. The panel included Gary Greenburg, science program officer for the Gordon and Betty Moore Foundation; Silvia Ronco, senior program director for RCSA; David Steuerman, science program officer for the Kavli Foundation; and Richard Weiner, senior program director for RCSA.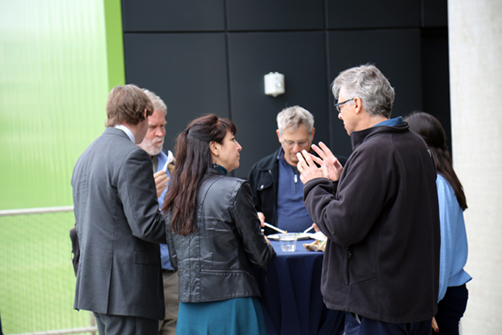 UC San Diego has had 10 Cottrell Scholars and nine faculty members who have participated in Scialog initiatives. Additionally, RCSA has provided research grants to faculty for decades. This funding, although not as large in scale as funding from federal agencies, can be critical to faculty just beginning their academic research careers. 
Josh Figueroa, professor of Chemistry and Biochemistry at UC San Diego spoke about his work in synthetic chemistry and thanked RCSA for its support. "I want to express my true and sincere gratitude to Research Corporation for its early investment in our work, for believing in the type of chemistry we were doing. That early work was actually supported by several foundations and it allowed me to recruit and retain personnel and have the resources to really explore chemical space," he stated.
"The Scialog experience is really unique," said Assistant Professor of Neurobiology Gülçin Pekkurnaz, who has participated in the Scialog: Chemical Machinery of the Cell conferences. "You don't have to think about funding or how to structure a grant—you just explore your ideas. It captures the pure joy of being a scientist. As a junior faculty member, this early support also helped me gain confidence that my ideas were valuable."
You can view the symposium by presentation on the UC San Diego Foundation Relations YouTube channel.