Wendy Groves Receives Exemplary Staff Employee Award
Wendy Groves Receives Exemplary Staff Employee Award
July 16, 2019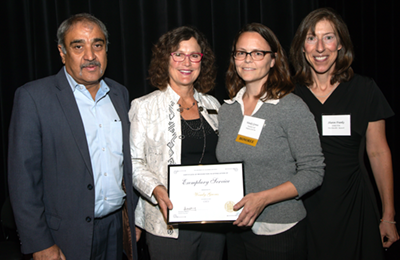 Wendy Groves is a director of Research Proposal Development Services (RPDS, pronounced "Rapids") in the Office of Research Affairs. RPDS provides full-scale assistance for large, interdisciplinary proposals, which can run the gamut from consultations and process coordination to reviewing proposal drafts and advising on proposal responsiveness and clarity. Although she has only been in this position for a little over a year, she has made such an impact that she was recently named one of UC San Diego's Exemplary Staff Employees.
Sharon Franks, senior director of RPDS, said in her nomination form "Everywhere Wendy has worked, her supervisors and colleagues speak glowingly of her diverse talents and the positive energy she brings to everything she touches."
The Exemplary Staff Employee of the Year Award recognizes staff career employees who make exceptional contributions to UC San Diego and the San Diego community in support of the vision to be a student-centered, research-focused, service-oriented public university. At the awards ceremony, held on June 18, Chancellor Pradeep Khosla encouraged awardees to "keep on doing the good work you do. Continue to be exemplary. I am rooting for your success."
Read more about Wendy and her work below.
Q: How long have you worked at UC San Diego?
A: I've been at UC San Diego for nine years. In addition to Research Affairs, I also worked in the Center for Energy Research (CER) and Food and Fuel for the 21st Century (FF21).
Q: What do you like most about your job?
A: I really like working with the faculty and researchers, and being involved in the cutting-edge work people are doing that is making an impact on the world. Being able to facilitate that work is very satisfying. I also love the team I get to work with at RPDS.
Q: What was one of your most successful grant consultations?
A: While I was working at CER, we successfully pursued a $10.5 million grant from the Department of Energy's National Nuclear Security Administration to create a new center of excellence focused on high-energy density science. I was involved in the planning and proposal development from the pre-RFP (request for proposal) stage through the final negotiations. I created detailed timelines, organized meetings, helped guide the team to develop scientific thrust areas, helped write and edit all of the proposal components—it was pretty involved, but paid off in the end.
Q: How did you feel when you found out you were receiving this award?
A: I was honored to receive recognition, especially at such a large, high-performing research institution.
Q: Which work accomplishment are you most proud of?
A: The high-pressure times where many things are due at once and having the ability to meet those challenges. For example, submitting six Department of Energy proposals totaling $15M on the same day, or two $25M center pre-proposals back to back — being able to coordinate that is very gratifying.
Q: What was your first job?
A: In high school, I was a receptionist for my dad's real estate company in Westchester, NY.
Q: What are you currently reading?
A: I read a lot of my daughter's books to see what she's reading (Naomi, 8). Most recently, I read a book she received for her birthday, which I had never read before – Call of the Wild.
Q: What do you like most about working at UC San Diego?
A: It's fun to work in an academic environment and it's great to be somewhere where there are so many students and young people. Being around the type of research done here is very exciting. And I really appreciate the proximity to my house, so I can bike to work!
Q: What is your favorite spot on campus?
A: I don't think I have one single favorite spot. I do enjoy walking or running from campus center up to the Gliderport, so maybe just getting to wander across campus is my favorite.