Nicole Joyce Receives NCURA Award for Outstanding New Research Administrator
April 3, 2019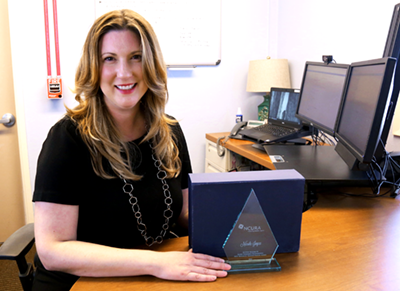 Nicole Joyce is manager of Educational Initiatives, Change & Client Services at UC San Diego, and works in the Office of Contract and Grant Administration. If the title sounds like a lot, it's because the job requires a lot. In her role, Nicole manages the research administration training program and client support for our enterprise contract and grant system. For her work, she was awarded NCURA's Barry Dorfman Outstanding New Research Administrator Award (Region VI).
The National Council of University Research Administrators (NCURA) presents this award to an individual who has made a significant contribution to the profession of research administration. They chose Nicole for this award because of her dedication to research administration and furthering UC San Diego's goals as one of the top public research universities in the nation. As one of her anonymous nominators commented, "The University of California San Diego and NCURA are both very fortunate to have someone like Nicole in their midst. She serves as a role model for others with her can-do attitude, passion for her work and generous spirit." Nicole was recognized for her work at the Regional Meeting held in Billings, Montana last October.
Read more about Nicole and her work below.
Q: What exactly does a research administrator do?
A: The way I typically describe what research administrators (RAs) do is this: as a top-tier research institution, we have a lot of scientists seeking funding for their research. RAs are the administrative staff who support researchers in obtaining and managing funding for their research. There is, of course, so much more to the role, but I have found that is the best way to communicate the gist without making someone's eyes glaze over.
Q: This award honors people who are relatively new to RA. What did you do prior? Why did you switch?
A: I worked in the private sector before coming to the university and I think the reason I have connected so deeply to research administration is because it is a community of people who find themselves in the profession not for the fortune and glory, but because they truly believe in the work being done and its impact on the world. 
Q: Which work accomplishment are you most proud of?
A: I think what makes me proudest is the sense of community we are building for UC San Diego RAs through the RA Training Program by contributing to their individual professional growth and development and the Research Administration profession as a whole.
Q: Why did you create the RA Training Program?
A: The RA Training Program was born out of need.  Research Administration is a fairly niche profession and it requires specific knowledge and skill sets. Our goal has always been to create a comprehensive enterprise-wide research administration educational certification program that establishes and maintains individual and organizational learning and knowledge about research administration topics, programs and systems.
Q: Do you have any interesting anecdotes about your trip to Billings to receive the award?
A: Upon the recommendation of a colleague, I found this great spirits store called Trailhead Spirits. The moose-head décor was everything I wanted from a store in the middle of Montana. 
Q: What are you currently reading?
A: The Complete Short Stories of Ernest Hemingway. So far my two favorites are called "Big Two-Hearted River I and II." They're about fly-fishing, which is something I also enjoy. Reading it made me feel as though I was there alone under the stars, listening to the stream and waiting for the morning so I could start casting. I also recently finished Radium Girls and I HIGHLY recommend it.
Q: What do you like most about working at UC San Diego?
A: I like feeling connected to academics and research and being part of a world-class institution. It makes me feel like the work I do contributes in some part to the changes we make in the world.
Q: Favorite spot on campus:
A: Literally anywhere with an ocean view, however, if I had to pick, it would be the Munk Lab conference hall at Scripps Institution of Oceanography. I just love strolling down the hall filled with sepia-colored photographs of previous researchers. The old Scripps buildings make me feel like I have simultaneously stepped back in time and onto a National Geographic set.