UC San DIego's Basement Establishes First Faculty Board
UC San DIego's Basement Establishes First Faculty Board
January 28, 2019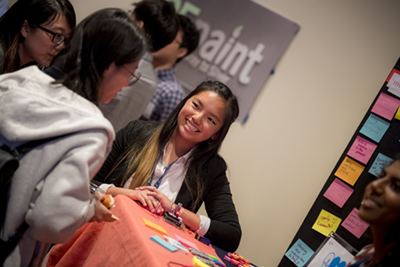 UC San Diego's Office of Innovation and Commercialization has a simple goal: to be the world's most innovative university, driving economic and social prosperity. One step in achieving that goal is The Basement, the campus's premier startup incubator.
Established in 2015 with support from four alumni investors, the Basement is an intellectual property-free incubation space for student entrepreneurs and social innovators on campus. Students have access to mentorship, space, programming and resources to develop their business or social impact idea. Although its focus is on undergraduate students, graduate students and all UC San Diego affiliates and community members can make use of its resources. To date it has supported over 100 project teams, raised over $2.4 million and helped form 21 companies. The Basement was recently ranked in the top ten incubators and accelerators in San Diego by the San Diego Business Journal and earned a 2017 CASE Award for Excellence.
The Basement recently established its first faculty board pulling members from across campus to serve an inaugural two-year term. The board was created at a time when The Basement is considering ways to grow its reach and impact on campus and within the San Diego region's innovation ecosystem.
Because the Basement isn't housed within a specific division, it was important that board members came from around campus. The campus is made up of many individual groups and organizations, so being able to openly communicate among the disparate division and departments is important. One of the mandates of the board is to serve as a conduit between their own departments and the Basement, sharing ideas and forging connections.
Board members were selected based on input from department deans, Vice Chancellor for Research Sandra Brown and Associate Vice Chancellor for Innovation and Commercialization Paul Roben. In addition to their role as connectors throughout campus, the board will also act as advocates for the Basement and similar innovation programs for students; and help shape future innovation programs on campus.
Gloria Negrete, director of The Basement is hopeful that the new board will "help fuel growth in the diversity of disciplines engaged in innovation and entrepreneurial programming available through the Basement, as well as programs like Institute for the Global Entrepreneur, StartR Inclusion, Blue LINC and the many other offerings available at UC San Diego."
The Basement's inaugural faculty board members are: