Center for Novel Therapeutics Opens in UC San Diego Research Park
Center for Novel Therapeutics Opens in UC San Diego Research Park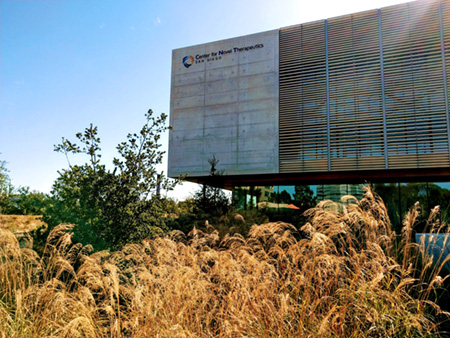 September 24, 2019
UC San Diego and BioMed Realty recently held a grand opening for the Center for Novel Therapeutics (CNT), a new facility designed to accelerate cancer research to clinical trials and then to market. The $92-million project is located in the heart of San Diego's Torrey Mesa, an area rich with academic researchers, healthcare institutions and life science and technology companies. As a part of UC San Diego's Science Research Park, CNT is walking distance from Jacobs Medical Center and Moores Cancer Center (Moores), the region's only National Cancer Institute-designated cancer center.
Nearly a decade ago Inaugural Director of CNT Thomas Kipps, M.D., and Moores Director Emeritus Dennis Carson, M.D. had a vision for a facility that brought together academic research and private sector support with the goal of speeding "bench to bedside"—turning research into viable patient treatments. They brought the idea to UC San Diego Chancellor Pradeep K. Khosla, who only asked "Can we make it bigger?" 
The answer was yes. UC San Diego partnered with BioMed Realty, a leading provider of real estate solutions to the life sciences community. The resulting 137,500-sq. ft. facility is the only academic-industry drug discovery incubator in San Diego. Moores leases about a quarter of the space, while the rest will be occupied by clinical researchers and entrepreneurs or startups. CNT provides commercialization resources to entrepreneurs, including incubator space with fully equipped wet and dry labs.
One of the tenants will be Kyoto University School of Medicine. Kyoto University and UC San Diego have enjoyed a close relationship for many years. Coming together in the CNT space will allow that relationship to deepen and innovative collaborations to flourish.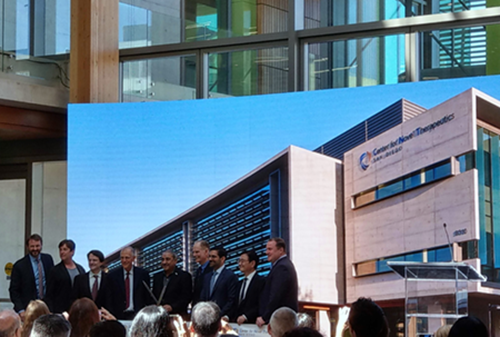 Academic research institutions are increasingly turning to industry partners and private support to not only help bridge any gaps in funding, but to also help move research into marketable products—in this case, drug therapies. Last year UC San Diego partnered with investment firm Deerfield Management to create Poseidon Innovation, LLC working from the same model of public-private collaboration. BioMed Realty has also committed to providing additional venture investments over time to select users of accelerator space at CNT.
The building is LEED Gold Certified, with high-efficiency heating and cooling, LED light fixtures, drought-tolerant landscaping and a rooftop solar energy system. Amenities include an atrium for industry events, fitness center and farm-to-table restaurant. It will also have close proximity to the UC San Diego Blue Line Trolley extension once it opens in 2021.
At the ribbon-cutting ceremony, which was attended by leadership from Moores, BioMed Realty and Kyoto University, Chancellor Khosla stated, "These types of forward-thinking partnerships help UC San Diego move closer to its goal of becoming a preferred destination for students, patients and the community. We look forward to the amazing new therapies that are destined to be discovered and brought to market in this dynamic new center."